Seoul TOPIS (Seoul Transport Operation and Information Service)
Seoul TOPIS is the Intelligent Transportation System (ITS) brand of Seoul Metropolitan Government. The first service of its kind in Korea, it was introduced in 1998 to address urban transportation problems.
TOPIS 3.0, a city management hub
TOPIS 3.0 is a smart metropolitan city management hub
that manages transportation, disasters, and other security- related events in an integrated manner.
It is an advanced transportation information system
that allows prompt judgments and responses to be made in times of emergency and predicts and prevents transportation problems before they occur through big data analysis.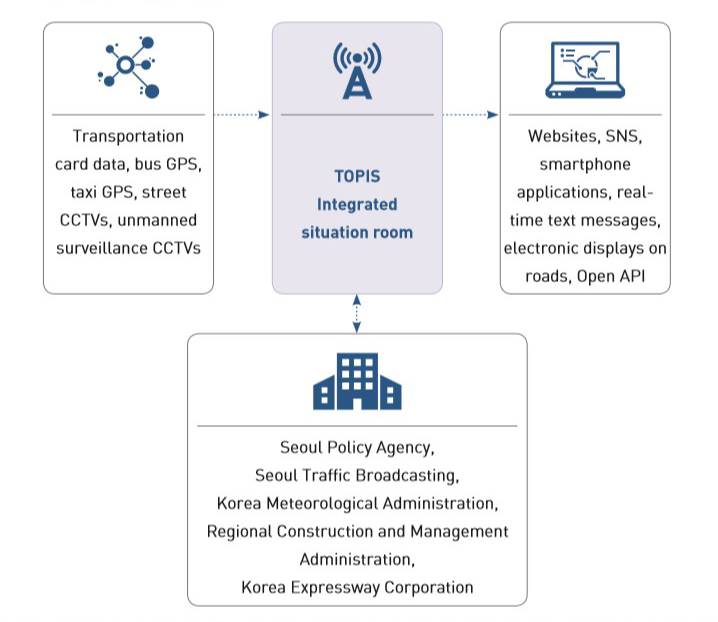 < information flow chart >
Functions of TOPIS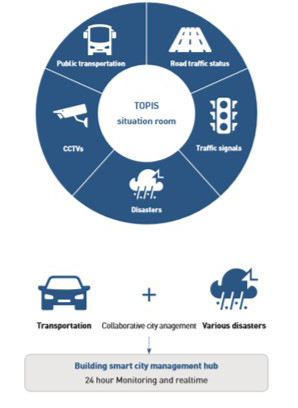 Round-the-clock integrated management of transportation, disasters, and security situations
Using cutting-edge equipment and devices, TOPIS monitors indicators related to Seoul's transportation system, disasters, and security situations on a 24-hour basis throughout the year and allows prompt responses, thereby minimizing any potential damages.

History of Seoul TOPIS

1998 Seoul's intelligent transportation begun as the Namsan district traffic management system was established.
---

2005 TOPIS was officially launched for the efficient operation of traffic management systems.
---

2013 the Seoul Metropolitan Government established and began to operate the Seoul Integrated Safety Center to handle transport management, disaster and national emergency.
---