Seoul City Public Bicycle Service
Seoul City Public Bicycle Service is the unmanned public bicycle rental system available for anyone at anytime . It is part of the solution to Seoul's serious problems of slow traffic, air pollution and high gas prices while aiming to make society healthier and increase quality of life.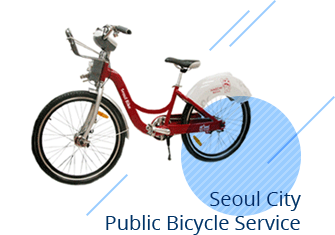 Station Description
A station is the place where public bicycles are rented and returned without the need for an attendant.
Stations are installed at convenient places for citizens to access, with a total of 43 stations: 25 in Yeouido and 18 in Sangam-dong.
Users of the Seoul City Public Bicycle Service may rent and return bicycles at any station.
Station Components
1) The bicycles are for use by anyone, including women and seniors, and were manufactured with light-weight, durable materials to ensure safety and convenience. Various safety and theft prevention devices have been installed at the smart terminals. Bicycles can be rented with an RFID card, a mobile phone, or at the kiosk. While riding the bicycle, riders can see their cycling information (distance traveled, speed, time spent cycling, etc.) and health information (calories burned while cycling).
2) The stand is the device where the bicycle is removed for rental or returned after use, and a lock has been installed to secure the bicycle. The stand also supplies the necessary power to run the smart terminal on the bicycle as well. After paying the rental fee, users may remove the bicycle from the stand by selecting the rental button on the bicycle's smart terminal at the station.
3) Each station has one kiosk installed. Users may see a variety of information, including bicycle rental, location of nearby stations and the weather. RFID transport cards can be registered by members of the service so they can use the card for payment. The kiosk sends information related to payment and bicycle rental to the control center. Security cameras around the station allow monitoring at all times.